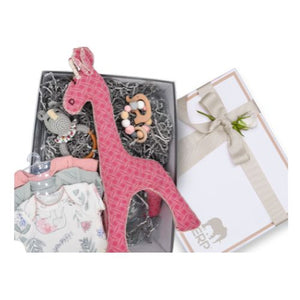 Need a gift for that special someone or special occasion?
Let our ERP Mercantile Gift Concierge help you develop and plan the perfect gift box. All of our gifts are sourced form Africa and the US, the bespoke (and exclusive) gifting world, packed and wrapped by hand, with love.
This set includes a custom designed ERP Branded 
This Gift box includes
Fabric Shweshwe Elephant, Rhino or Girapfe

New Born onesies 
Teething ring by BabyWhatKnots 
Handmade Knitted Baby ring toy
Opening a ERP Mercantile Gift Box is an experiences your loved ones will remember for a lifetime and we think it's one of the most beautiful ways you can honor someone's special day – all you have to worry about is choosing the right one.