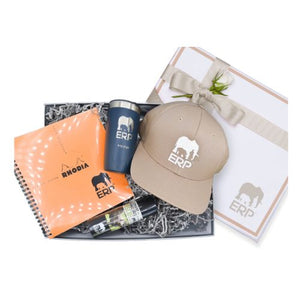 Need a gift for that special someone or special occasion?
Let our ERP Mercantile Gift Concierge help you develop and plan the perfect gift box. All of our gifts are sourced form Africa and the US, the bespoke (and exclusive) gifting world, packed and wrapped by hand, with love.
This set includes a custom designed ERP Branded Shwshe Apron, Wooden ERP Chopping board, Organic Rooibos team with glass tea infuser and our ERP Honey for our  ERP.ngo field project "Elephant Human conflict"
Gift box includes
ERP V-Flexfit Cotton Twill Fitted Hat in Black, Navy or Taupe
ERP 

Rhodia Reverso Notebook

Retro 51 Tornado Pen the ERP Rescue Series

ERP Engraved Yeti Rambler 10oz with Mag Slide Lide
Opening a ERP Mercantile Gift Box is an experiences your loved ones will remember for a lifetime and we think it's one of the most beautiful ways you can honor someone's special day – all you have to worry about is choosing the right one.