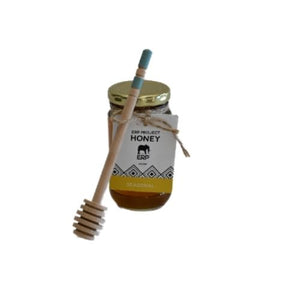 The Tale Of Elephants And Bees "Two Bees, One Stone"
Elephants are known to go wherever and eat whatever they want, regardless of the opinions and feelings of others especially in rural communities and farmlands. The African honey bee (Apis mellifera spp.) is known to be aggressive towards anything and anyone trying to get at its home.
 The design of the beehive fence is a natural barrier used around rural communities farm land. This barrier exploits the elephants' inherent fear of bees. The bees are going about their business of collecting pollen,
The beehive fence helps to protect vegetable for both the cooperative's members and the local market, while at the same time having producing 200 kg of raw honey for community members to sell
The design of the beehive fence is wonderfully simple and elegant.
Support this project by buying raw honey from ERP mercantile. Each bottle helps saving both Elephant and Humans.
This apiculture project represents a classic ERP intervention, as it incorporates both conservation issues through addressing human-elephant conflict, whilst providing communities with viable socio-economic opportunities.
Conserving elephants and rhinos through the alleviation of poverty. 
Our honey is available in 2 sizes, each with a unique flavor profile bases on region and the project honey is harvest from.